Product Description
H8eraide's high performance Engine Flush is known for being the most aggressive cleaner of its type on the market, yet it is the safest product for your systems and the environment.
Testing proves H8eraide's engine flush removes twice as much calcium buildup and sludge than traditional acids such as muriatic (HCI), phosphoric, and sulfuric.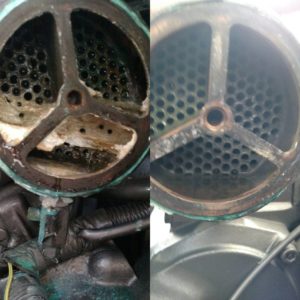 This engine flush makes quick and easy work of all buildup inside the engine. With a simple to use 1:1 ratio anyone can use this product.
Concentrate: Dilute this product 1:1 with water prior to use.
Have an AC System as well? Use our AC System Flush to bring your AC back to optimum working condition. More info can be found here!